Meeting Our Staff
Clinical Staff

Andrew Vearing (General Manager)
B.P&O, MAOPA, MISPO
Senior Orthotist/Prosthetist
OPS is a privately owned Perth based company. Andrew completed a Bachelor of Prosthetics and Orthotics at LaTrobe University in 1996. He has amassed years of valuable knowledge and experience in hospital settings in Melbourne (Caufield Hospital and St Vincents Hospital) and in private practice in Sydney (Advanced Prosthetic Center).
Andrew's desire to remian at the forefront of technological advances have led him interstate and overseas. He was the first prosthetist in WA to fit the I-Limb (Touch Bionics), the C-Leg (Ottobock), the Michael Angelo Hand (Ottobock) and the Proprio Foot (Ossur). He is the only clinician in Perth certified to fit the Utah Arm (Motion Control). His other certifications include the Advanced Flex Foot (Ossur) and the Genium Knee Joint (Ottobock).
Andrew is the only Prosthetist in WA to be invited to join the Australian Paralympic team at both the Sydney and Rio Paraylmpic Games. He has also been invited on several occasions to present to his colleagues at the Australian Orthotic and Prosthetic Association's annual conference. Andrew's passion for his profession and willingness to share his knowledge is evident in his presentations to Perth's Universities and Therapy Groups.
---
Brodie Price
B.P&O, MAOPA, MISPO
Senior Prosthetist
Brodie is a Senior clinician at OPS. He graduated La Trobe University Melbourne in 2011 with a Bachelor of Prosthetics and Orthotics. Since graduating Brodie has worked both domestically and internationally, starting his career at FOS (Fremantle Orthotic Services).
After leaving WA Brodie moved to Napal to volunteer and provide a prosthetic service for the victims involved in the 2015 earthquake. In 2016 Brodie joined a small private clinic in Far North Queensland as the leading Prosthetist to help establish a local service for the regions of Cairns and Townsville. His love of the west coast saw Brodie move back to Perth and join the team at OPS at the beginning of 2019.
Prosthetics is Brodie's passion, mainly specialising in lower limb amputees. With experience in both interim and definitive prosthetic management, Brodie has a keen interest in the innovative technology and techniques in the profession. His specialties include experience and certification for fitting Micro-Processor knees (Genium, C-Leg and Meridium from Otto Bock), elevated vacuum systems (Harmony, Unity and Limb Logic) and socket technologies such as Sub-Ischial Trans-Fermoral sockets and BOA Revofit systems.
Brodie is a member of the Australian Orthotics and Prosthetics Association.
---
Rachael Muir
MCPO,MAOPA
Orthotist/Prosthetist – Clinical and Administrative Co-ordinator
Rachael graduated from Latrobe University with a Bachelor of Health Sciences and clinical Masters of Prosthetics and Orthotics in 2014. She began working with OPS in 2015, in both the Prosthetics and Orthotics field.
She has a special interest in complex lower limb paediatric orthotics and paediatric prosthetics. Rachael also attends Regional North Orthotic clinics, as well as the Sir Charles Gardiner Amputee clinic. Rachael is a member of the Australia Orthotics and Prosthetics Association.
---
Gail Paton
B.P&O, MAOPA
Senior Orthotist
Gail is a Senior Orthotist at OPS and has been with the company since 2004. Graduating in 2002 from La Trobe University she started her career in rehabilitative prosthetics before moving across to OPS to concentrate on lower limb orthotic intervention.
Gail attends rural and remote orthotic clinics in the North of the state and enjoys the challenges and requirements of clients that these present. Having an interest in both paediatric and aged care, Gail adopts a holistic approach to her orthotic clients' needs when formulating their orthotic treatment. As a long term member of AOPA, Gail regularly attends professional development events and aims to continually increase her knowledge base and adopt new techniques.
---
Joel Williams
MCPO,MAOPA
Orthotist/Prosthetist
Joel graduated from Latrobe University with a Bachelor of Applied Science and Masters of Clinical Prosthetics and Orthotics in 2018. He began working with OPS in 2018, in both the prosthetics and orthotics field.
He has a special interest in acute prosthetic management and complex lower limb orthotic management.
Joel is a member of the Australian Orthotics and Prosthetics Association.
---
Ayse Buker
MCPO,MAOPA
Orthotist/Prosthetist
After completing her diploma degree in orthotics and prosthetics, Ayse spent 2 years as an orthotic/prosthetic technician in Turkey. She decided to study further and graduated from Latrobe University with a Bachelor of Health Science and Masters of clinical Prosthetics and Orthotics in 2012. She has had almost 6 years experience; working as a clinical prosthetist at TLCU in WA and APC in Sydney, NSW. During this period, Ayse has worked across the full range of prosthetics both in geriatric and paediatric amputee population.
Ayse is now excited to be continuing her career with OPS in both aspects as an orthotist and prosthetist.
---
Barry Smith
B.P&O, MISPO, MAOPA
Clinical and Administrative Co-ordinator
Barry is a founding practice partner at OPS. Originally from the UK, Barry established OPS in 1981 has been actively and passionately involved in the orthotic treatment of clients ever since. Barry's motivation towards ongoing education led him to take leave from OPS to complete a Bachelor of Prosthetics and Orthotics at LaTrobe University Melbourne in 2007.
His experience and expertise in the orthotic management of children with cerebral palsy saw him invited to present at the CP ISPO symposium in Melbourne in 2010. In 2013 he was asked to head the convening committee for the CP ISPO symposium held in Perth.
In 2016, Barry took a well earned 12 month sabbatical to England. Upon his return he took on a key role to support and mentor the clinicians at OPS who are benefiting from his wealth of knowledge and experience.
---
Administration Support
Nicole Vearing – Accounts Manager
  Mieke Montauban – Practice Manager
Madeleine Mitchell – Administration Manager
Michaela Wiesinger – NDIS Administrator
Krishna Karman – Orders Administrator
[/one_fourth_last]
---
Amy Meyerkort – Office Support Staff 
Helen Siviour – Office Support Staff
Diana Tartaglia – Office Support Staff 
---
Technical Support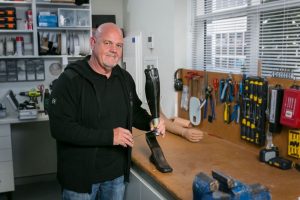 Mark Luke – Prosthetic Technician

 Damian Stevens– Orthotic Technician 

Kieren Holdsworth – Technician

Michael Hilditch – Technician