Paediatric Ankle Foot Orthoses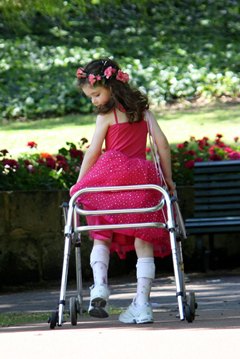 At OPS we understand that the approach needed when treating children is very different to that of adults. Our clinicians are committed to creating a safe, calm environment where each child's individual needs are recognised. We focus on a team approach, and work together with parents, physicians and other therapists to give each child the best possible outcome.
How to prepare your child for their first appointment
Where possible, explain to your child what is going to happen. Your therapist may be able to help with this. You may also request a children's book from OPS reception called "Woody and Jessie's new shoes" which guides children through the process of having AFO's fitted. If you have any special requests prior to your child's appointment please contact us and we can take these into consideration.
WHAT TO BRING
Shoes
Nappies if necessary
Loose clothing able to be pushed above the knee
Old clothes as they may get splashed with plaster
Favourite DVD. We have a DVD player and a selection of DVD's in the cast room
HOW LONG WILL IT TAKE
For clients initial assessment or cast up to 60 minutes.
It is best to make appointments earlier in the day when your child is less likely to be tired.
WHAT WILL HAPPEN?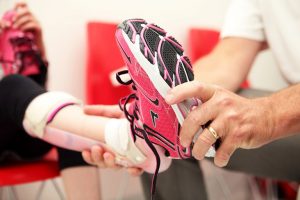 You will need to wait in reception prior to your appointment.
You will then be taken into the cast room.
Your child's socks and shoes will be removed.
The clinician will cover your child's leg in soap so the plaster doesn't stick to their limb.
A plastic tube is then placed on the front of the leg. This will protect the leg when the plaster is cut
Plaster is then applied to the leg.
The foot is held in position as the plaster dries. The child must remain still during this time (usually 2-3 minutes)
A zipper is then drawn in texta on the front of the cast.
When the plaster is ready, a small knife is used to cut the cast off along the zipper mark. The plastic tube will protect the leg
Where possible, the child may then choose a design which will form the cover of their AFO's.
YOUR NEXT APPOINTMENT
A follow up appointment will be booked for two weeks time.
You will need to bring your child's shoes to this appointment. (You may wish to look at our Hatchbacks at this stage. They are children's shoes, which are specifically designed to be worn with AFO's)
Your child's AFO's will be fitted at this appointment.
You will be given an information sheet, which answers questions such as how many hours your child should wear their AFO's for and what is normal in terms of pressure marks etc.
A review appointment will be booked for two weeks time post-fitting to ensure all is going well for your child.